Updated on 2021/05/20
Tour - Getxo Marina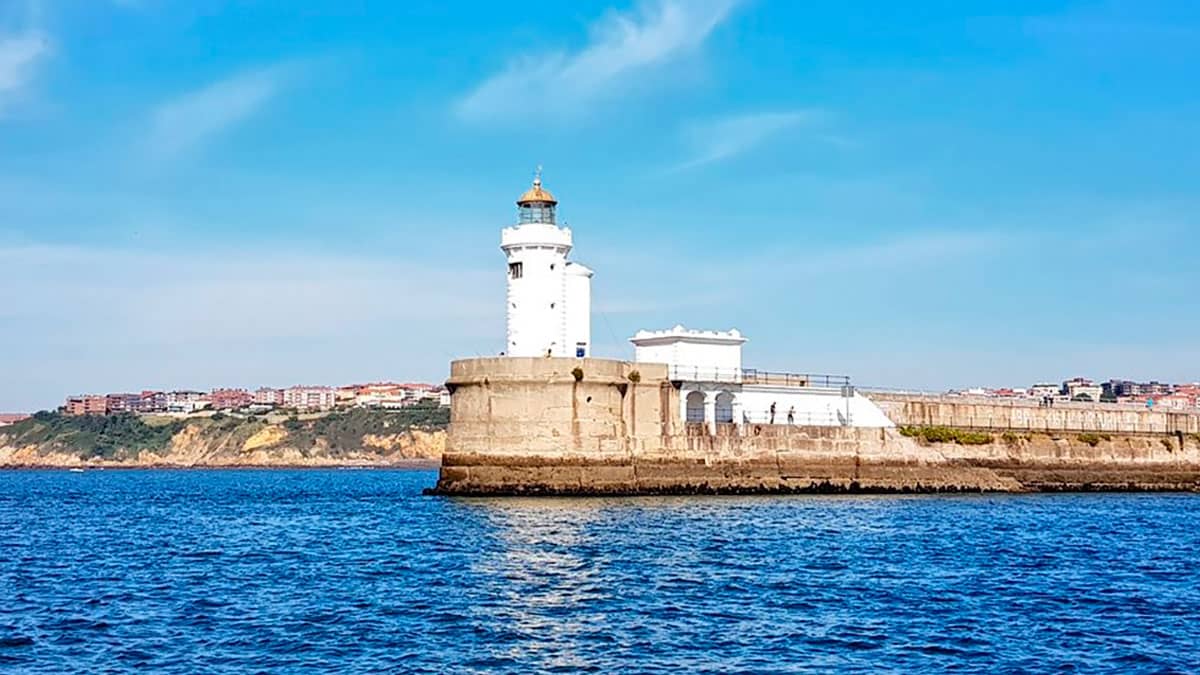 Description
Getxo marina and its lighthouse are at the entrance to the Port of Bilbao, next to Getxo's Ereaga beach. The marina was opened in 1997.
It now has facilities and services for recreational sailing, entertainment and hospitality establishments, and 3 cruise terminals are located there.
How to get here
By bus:
A2151. Larrabetzu - Bizkaia Zubia/ Bizkaia Transporter Bridge;

By Metro underground:
Line 1 Etxebarri- Plentzia (Neguri stop)

Car part at the entrance to the Marina.
Section 1
From the parking to the lighthouse
Suitable for people with reduced mobility (PRM)
An easy route, access over an easy-to-cross ramp with handrails on either side. That is the start of a 1-km spacious promenade with views over the sea and beach. However, the lighthouse can only be reached up a series of steps with no ramp alternative.
Section length

1,00 km

Pavement

Cobblestones, tarmac

Obstacles

Stairs to climb to the area closest to the lighthouse.
Is there reception equipment on the section?

Yes
Outdoor space: Parking areas and access to equipment
Is there a parking area?

Yes

Parking. Are there any minimum dimensions for adapted vehicles?

No

Is there any adapted access?

Yes

Are there slopes at the entrances?

Yes

Are the access slopes suitable for people with reduced mobility?

Yes, with no required assistance from third parties

Are there railings and/or handrails?

Yes, with no required assistance from third parties

Is there an equipment entrance sign next to the access, and is it adapted?

No

Pavement type

Tarmac, concrete
Indoor space: General features
Are the access slopes suitable for people with reduced mobility?

Yes, with no required assistance from third parties
Personal care area
Are there personnel trained in accessibility in the facilities?

No
Rest zone
Is there a rest area at the reception?

Yes
Store
Is there one or more stores at the reception?

No
Children's area
Is there a children's area at the reception?

No
Exhibition room
Is there an exhibition room at the reception?

No
Exhibition Hall
Is there an exhibition hall at the reception?

No
Are there trails on the section?

Yes
Access
Is there lighting at night?

Yes

Minimum accessible connection between parking spaces, if any, the start of the obstacle-free trail

Yes

Is there an adequate slope to allow circulation without assistance, with personal assistance or with technical assistance?

Yes, without assistance from third parties

Parking spaces reserved for vehicles used to transport disabled people according to current regulations. At least 5% of the total spaces

Yes

Parking signage, if any, with the International Accessibility Symbol on the floor and/or on walls

Yes

Informative poster at the start of the trail indicating the length, route, difficulty, duration and slopes by sections

No
Itinerary
The route is more than 150cm wide, with occasional narrowings of 90cm

Yes

Minimum clearance height of 220 cm

Yes

Rest areas

Yes

Urban furniture (fountains, dispensers...) arranged along the pedestrian route to provide sound orientation

Yes

Guiding partition and/or tactile foot signs to draw attention to an important feature

No

Islands with a minimum width of 150 cm to facilitate two wheelchairs passing each other

Yes

Is there an adequate slope to allow circulation without assistance, with personal assistance or with technical assistance?

Yes, with no assistance
Cycle touring lane
Does the section have a cycle touring lane?

No
Lookout and observatory
Is there a lookout or observatory on the section?

No
Nature classroom
Is there a nature classroom on this section?

No
Is there a recreational area on this section?

Yes
Access
Is there adequate lighting?

Yes

Accessible connection from the parking, if there is one, to the premises, adapted to current regulations. Unobstructed area with a minimum width of 90 cm, an unobstructed height of 220 cm and a compact floor which allows for wheelchair access

Yes

Parking spaces reserved for vehicles used to transport disabled people according to current regulations. At least 5% of the total spaces

Yes

Is there an adequate slope to allow circulation without assistance, with personal assistance or with technical assistance?

Yes, without assistance from third parties

Parking signage, if any, with the International Accessibility Symbol on the floor and/or on walls

Yes
Outdoor space
Are 10% of the tables and benches accessible?

Yes

At least one accessible access, if any

No
Is there a beach on this section?

No