Updated on 2022/07/26
Oma Forest Tour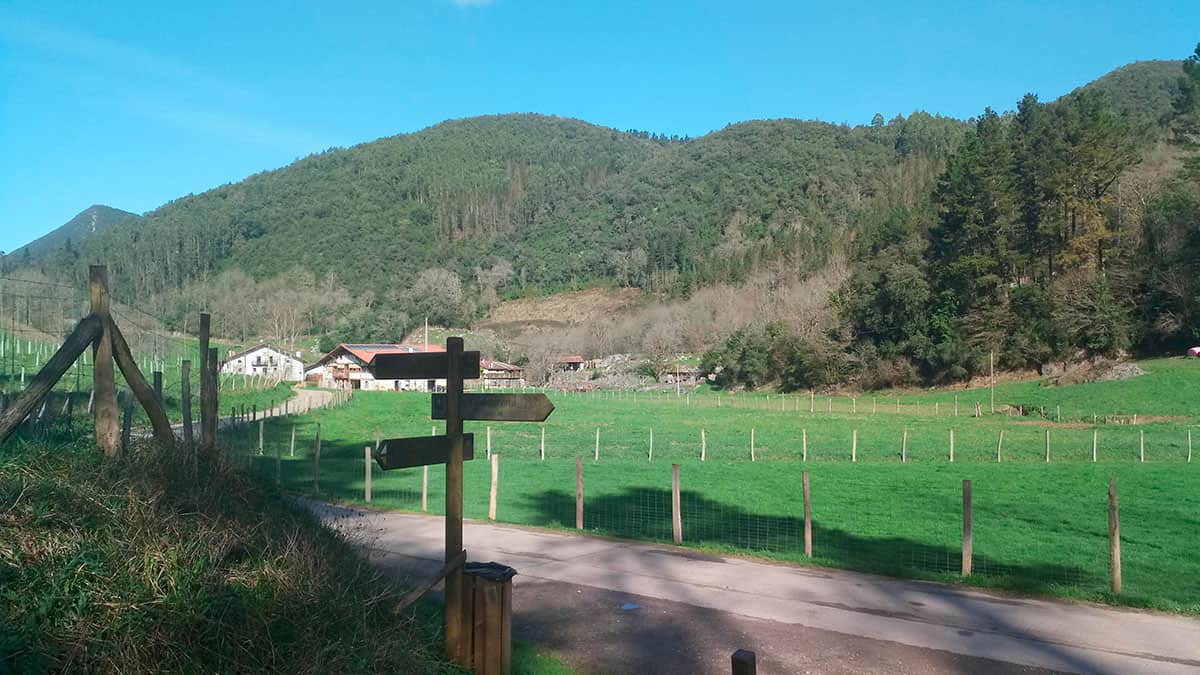 Description
In the Painted Forest of Oma, also known as the Animated Forest, is a singular enclave in the small district of Oma in Kortezubi, close to the Caves of Santimamiñe. Created in 1984 by the Bilbao painter and sculptor Agustín Ibarrola, this enchanted forest is a magical space displaying a new relationship between art and nature. Here, the artist left prints on trees and stones to connect the work of the ancient artists of the Palaeolithic period to that of the modern land art trend, an artistic current where the painter works directly on the natural environment with the landscape as his canvas. Thus, Ibarrola simply painted the surface of pine trees knowing the support he was using was not inert like canvas. The majority of the figures are distributed among the different trees and located on planes of different depths. This way by covering the hundreds of pine trees in colours and life he created an enormous canvas which visitors can recompose playing with the perspectives as they walk. We come across the possibility of building a customised work via the decisions we make inside the forest, walking along one trail or another, looking in different directions, etc. In other words, a different forest for each visitor. (Tourism Euskadi.eus)
Highlight
Oma Valley
Santimamiñe Cave
Mount San Miguel de Ereñozar
Basondo animal shelter
How to get here
Bizkaibus:
A3513 BILBAO - Hospital Galdakao - Gernika - Lekeitio.
The Bizkaibus stops are from the route start.
Car is a better option.
Section 1
From the Lezika restaurant parking lot to the upper entrance of the Oma Forest
Not suitable for people with reduced mobility (PRM)
The Oma Forest is located just 3 kilometers from the Lezika-Basondo Parking, which is where we will park our vehicle and start the route. Leaving Basondo it takes about 45 minutes to reach this small painted forest (from the middle of the road it is already all downhill). Once in the forest, you can begin the descent following the path that crosses it from medium to medium and continues down to the left. (Bosque de Oma.com)
Section length

2,69 km

Pavement

Gravel and asphalt

Obstacles

Firm broken in some sections.
Dirt and wood steps on the access road to the Forest.
Wooden fence provisionally prevents access to the Forest.
Is there reception equipment on the section?

No
Outdoor space: Parking areas and access to equipment
Is there a parking area?

No

Are the access slopes suitable for people with reduced mobility?

No

Are there railings and/or handrails?

No
Indoor space: General features
Are the access slopes suitable for people with reduced mobility?

No
Personal care area
Are there personnel trained in accessibility in the facilities?

No
Rest zone
Is there a rest area at the reception?

No
Store
Is there one or more stores at the reception?

No
Children's area
Is there a children's area at the reception?

No
Exhibition room
Is there an exhibition room at the reception?

No
Exhibition Hall
Is there an exhibition hall at the reception?

No
Are there trails on the section?

Yes
Access
Is there lighting at night?

No

Minimum accessible connection between parking spaces, if any, the start of the obstacle-free trail

No

Is there an adequate slope to allow circulation without assistance, with personal assistance or with technical assistance?

Yes, without assistance from third parties

Parking spaces reserved for vehicles used to transport disabled people according to current regulations. At least 5% of the total spaces

No

Parking signage, if any, with the International Accessibility Symbol on the floor and/or on walls

No

Informative poster at the start of the trail indicating the length, route, difficulty, duration and slopes by sections

Yes

Path start sign positioned no higher than 195cm

Yes
Itinerary
Vertical start signage

Yes

Vertical signage type

Read

Compact, non-slip and with no projections along their entire length, allowing wheelchair transit

No. The terrain is very uneven made up of gravel and gravel. If it has rained we will find mud, which would make wheelchair access even more difficult.

2 m. paved trails with non-deformable and non-slip material, with a different texture and different from the rest

No

The route is more than 150cm wide, with occasional narrowings of 90cm

Yes

Minimum clearance height of 220 cm

Yes

Rest areas

No

Urban furniture (fountains, dispensers...) arranged along the pedestrian route to provide sound orientation

No

End vertical signage

Read

Guiding partition and/or tactile foot signs to draw attention to an important feature

No

Islands with a minimum width of 150 cm to facilitate two wheelchairs passing each other

No

Is there an adequate slope to allow circulation without assistance, with personal assistance or with technical assistance?

Yes, with no assistance

Unevenness through pedestrian routes

No

Tree branches do not obstruct the route at below 2.20 m

Yes

Ramps, bridges and walkways with more than 50cm of unevenness, 90cm handrails and with handrails at two heights: 65-75 cm and 95-105 cm

No
Cycle touring lane
Does the section have a cycle touring lane?

No
Lookout and observatory
Is there a lookout or observatory on the section?

No
Nature classroom
Is there a nature classroom on this section?

No
Is there a recreational area on this section?

No
Access
Is there an adequate slope to allow circulation without assistance, with personal assistance or with technical assistance?

No
Is there a beach on this section?

No